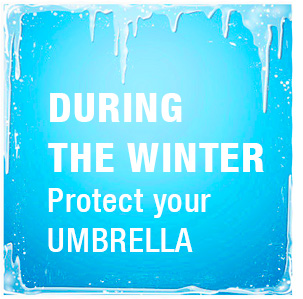 All our umbrellas come with a polyester cover that you can use once your canopy is removed. It is sufficient for winter storage in a dry place.
To use your umbrella throughout the year and protect the canvas, we also manufacture a cover with high quality zipper that you can use or remove it when the sunshade is mounted.

In case of heavy snowfall or incessant rain, it is advisable to store the canopy in a dry place.

Acrylic canvas cover

Practice: zipper

Craftsmanship

Many color choices

Choose the color of your cover
Just like the canvas of your umbrella, you can choose the color of your bag and the border trim. The cover is made with the same high quality acrylic fabric TEMPOTEST by PARA. Canvas parasol is well protected throughout the year with the most effective solution.
Contact us to receive the color chart of fabric and trim by email.