Solar covers Gardenart are made by the best manufacturers of canvases (FERRARI and PARA), chosen for their strength and ease of maintenance and are available in a wide range of colors.
See all colors
We offer 2 types of canvas for your patio umbrella :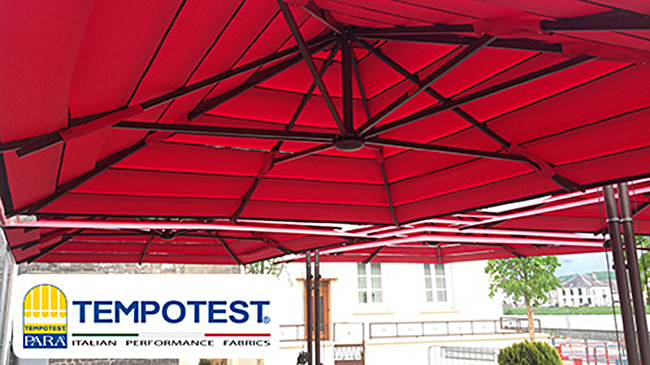 Tempotest by Parà is an elegant 100% acrylic fabric with Teflon stain-resistant and rot-proof waterproof treatment, with a guarantee of robustness of color.

OEKO-TEX STANDARD 100
All Para products are certified Oeko-Tex Standard 100. Such certification, defines a rigorous scientific assessment for our material that ensures the absence of harmful products to humans and the environment standard. More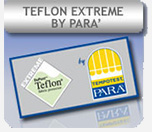 TEFLON EXTREME BY PARA
The market requires durable fabrics, bright colors that never tarnish. It is for this reason that Para has partnered with DuPont, which led to Teflon EXTREME by Para.
This finish is the result of research that Para constantly carries in sunscreen. During the manufacturing process, the Tempotest ® fabric is immersed in an emulsion which creates a shield and invisible form a molecular barrier around individual fibers, making it hydrophobic and water repellant to oil and dirt.
If a task is formed, this component allows the water or even rain to remove the dirt and it is not imbedded in the fabric. The fabric retains its luster.
With over 200 years of experience Dupont treatments are absolutely health and environmentally friendly. Teflon EXTREME by Para makes acrylic fabrics TEMPOTEST the best solution not only for solar blinds, but also for furniture and for the marine industry.

FIXATION HI-CLEAN
All Tempotest fabrics are treated with a particular type of finish born of research and development undertaken by Para in partnership with Dupont Teflon which, thanks to the nanometer-sized particles that compose it, is capable of anchoring in the fabric in a sustainable manner.
The method of depositing the material allows finishing deposited not only on the surface of the canvas, but the single fiber wound, forming an impenetrable barrier without compromising breathability.
HI-Clean is hydro and oil repellent making the material free from mold, while being protected from fine dust and gas pollution from industrial and urban waste.
The nature of the aqueous or oily stains are not absorbed by the tissue.
The pollution due to rain, also leaves no residue and does not remain anchored in the material due to the barrier created by HI-clean finish. These characteristics are maintained over time.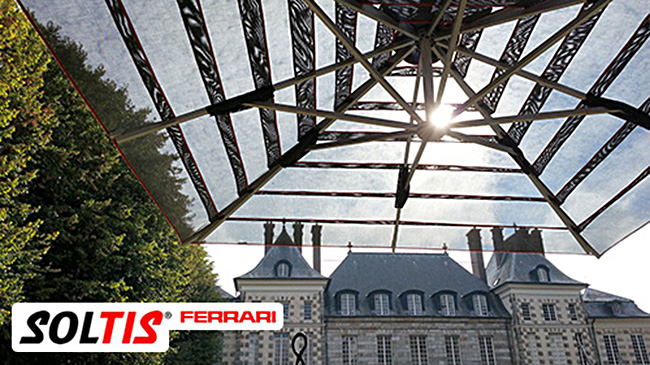 Soltis® by Ferrari is a rigid and anti-tear micro-breathable tensioned fabric, blocking sunlight while exhausting heat and providing total visibility on the outside (Soltis ® 86 transparent parasol). We also propose the Soltis ® 96 which is made with micro-perforations in order to have tighter visibility filtered out.

HEAT PROTECTION
Soltis ® fabrics offer excellent performance. They reject, depending on the colors, up to 97% of the heat.
Through their micro aeration, ended choking sensations under the umbrella : air flows, you finally breathe!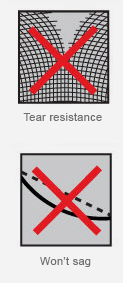 RESISTANCE IN TIME
Manufactured to the exclusive patented Précontraint ® Ferrari ®, Soltis ® textiles are held in tension throughout the manufacturing cycle.
Thanks to the unique manufacturing process of Précontraint ® Ferrari ®, Soltis ® textiles resist:
– The pressure of the strongest winds
– Tear
– Deformation
– Deviations of extreme temperature: -22 ° F to +158 ° C
– To attack by UV
Note: Soltis ® textiles are guaranteed for 5 years.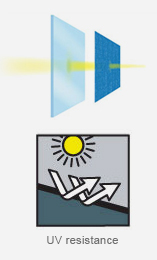 TRANSPARENCY TO ENJOY THE VIEW
Soltis ® textiles eliminates the effects of glare and reflections while maintaining full transparency and visibility of the outside.
Beneath your umbrella, you can take full advantage of the views and the garden: No confinement!
They also protect all UV aggressions.
Note: Indoors, choose a shade of dark color to maximize outward visibility.

THE ONLY CERTIFIED TEXTILE FABRICS NF
NF Canvas is a quality label that offers consumers a simple way to confidently choose a sun protected textile.
Soltis ® textiles have been tested and approved by 4 criteria of quality defined by NF Canvas.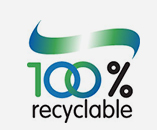 TEXTILES 100% recyclable
Soltis ® textiles can be collected at the end of life for recycling.
They then retired to give life to new raw materials re-used thanks to the industrial Texyloop ®.


EASY MAINTENANCE
Soltis ® textiles have a perfectly smooth surface: dirt and pollution do not adhere. Maintenance is easy: simply wash with water, a mild soap for difficult tasks, to bring the fabric back to its original appearance.